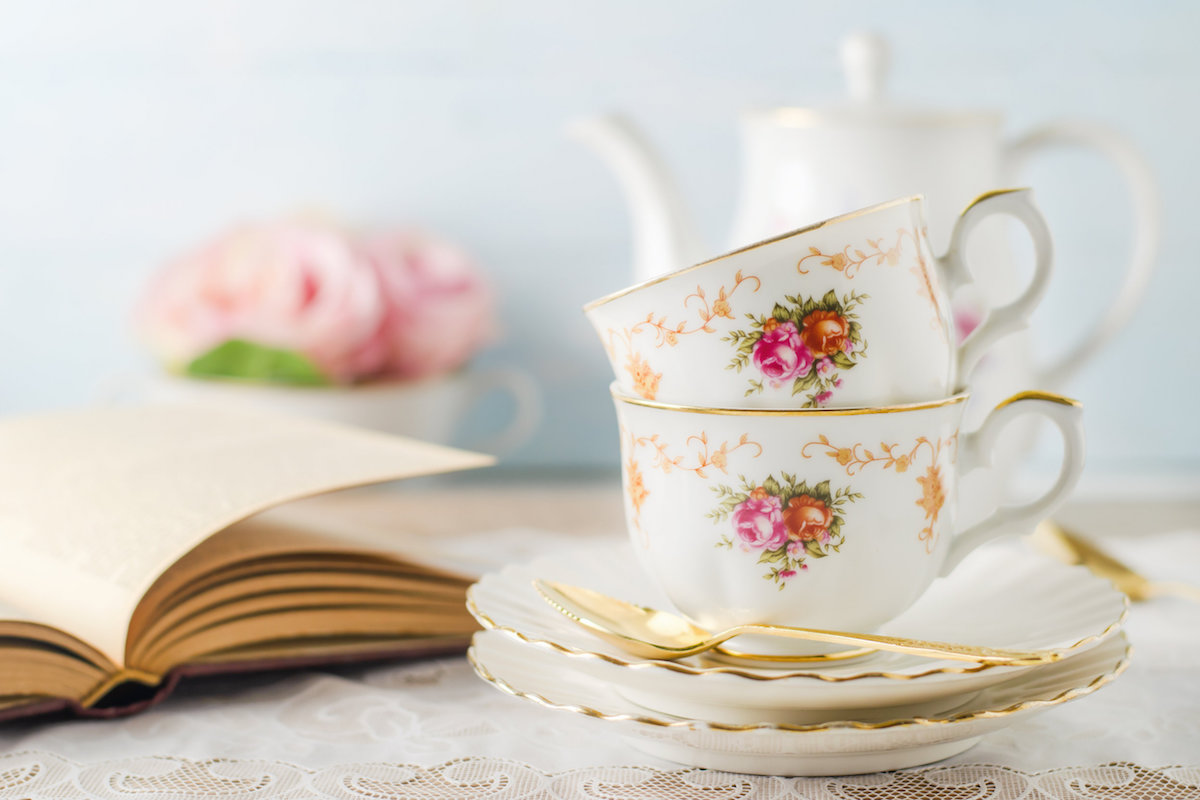 My name is often spelt wrong. In fact, my name is quite old for my age — I've never met another.
My name is Shelley, and I am a thrifter. When I go thrifting, I always look for one thing in particular — teacups. Something about a dainty, matching teacup and saucer with vibrant colors calls to me. I feel like a little girl having a tea party with my stuffed plushies. There's nothing better than waking up early on a Saturday morning and hitting up every single thrift store in the area hunting for that really good find, and adding it to my cabinet of curiosities.
It wasn't always like this, and becoming a collector of bone china almost found me.
This all started when I was a little girl. I was taught to read garage sale signs quickly and slowly learned how to tell real authentic bone china from fakes.
My mother has a beautiful bone china wedding set, "Moonlight Rose '' by Royal Albert, and ever since I can remember, she's been searching and collecting items to grow her set. Wanting to be like my mom, I too looked for delicate, dainty china.
I quickly realized they almost all looked the same. Most had the same white base with red or pink flowers on top, and a lining of gold around the rims. But occasionally, I'd find a bright blue one, or a yellow one and they always stood out as being different, unique and beautiful.
While browsing at a garage sale in the summer of 2016, I came across one special teacup in particular.
It was white like others but showcased dainty tiny blue flowers with small lining of blue around the rims. As I picked it up to examine the bottom, I noticed my name. It was spelt exactly like mine. I was so taken aback from this cup sharing the same name as me and being so beautiful.
I bought it for $4. I took it home and began to research it, discovering there was a whole manufacturer with my name. The company was out of business and once specialized in bone china. I soon learned that pieces by them were quite rare to come across and worth a considerable amount of money to a collector.
And so, my journey began.
I had found my niche, I had found a thing to be searching for, and learned how to identify it. This soon became a part of my identity. From there, I went searching almost every chance I could get to find these special pieces of china. After a few years, I have accumulated quite the collection.
I have a favorite antique shop. It's an old barn that has been redesigned and it's stuffed full with old clothes, china and other knick knacks. There, I found a matte black teacup; something unlike anything I'd seen before.
When I walked up to the counter to pay for it, the woman said, "You know, two more of these and that'll make it a collection," I giggled and exclaimed, "This will make it 26."
The woman's face shined in shock. From there we exchanged numbers, she told me her mother had recently passed, and she herself had a collection that she wanted to go to a loving home. She was pleased that a young person such as myself would love them for years to come.
I found out later that day when she called me, that her mothers name was also Shelley, spelt just like mine.​​​
These coincidences have magically fallen into place. I guess you could say right place or right time, but I think that I was just the right person and discovered something right for me.
To this day I have stuck with my special hobby. I still collect, although I am open to more than just one type of teacup and I get excited when I'm gifted one, or I am told of a good find.
I still hunt every Saturday morning, or whenever I can find the chance.