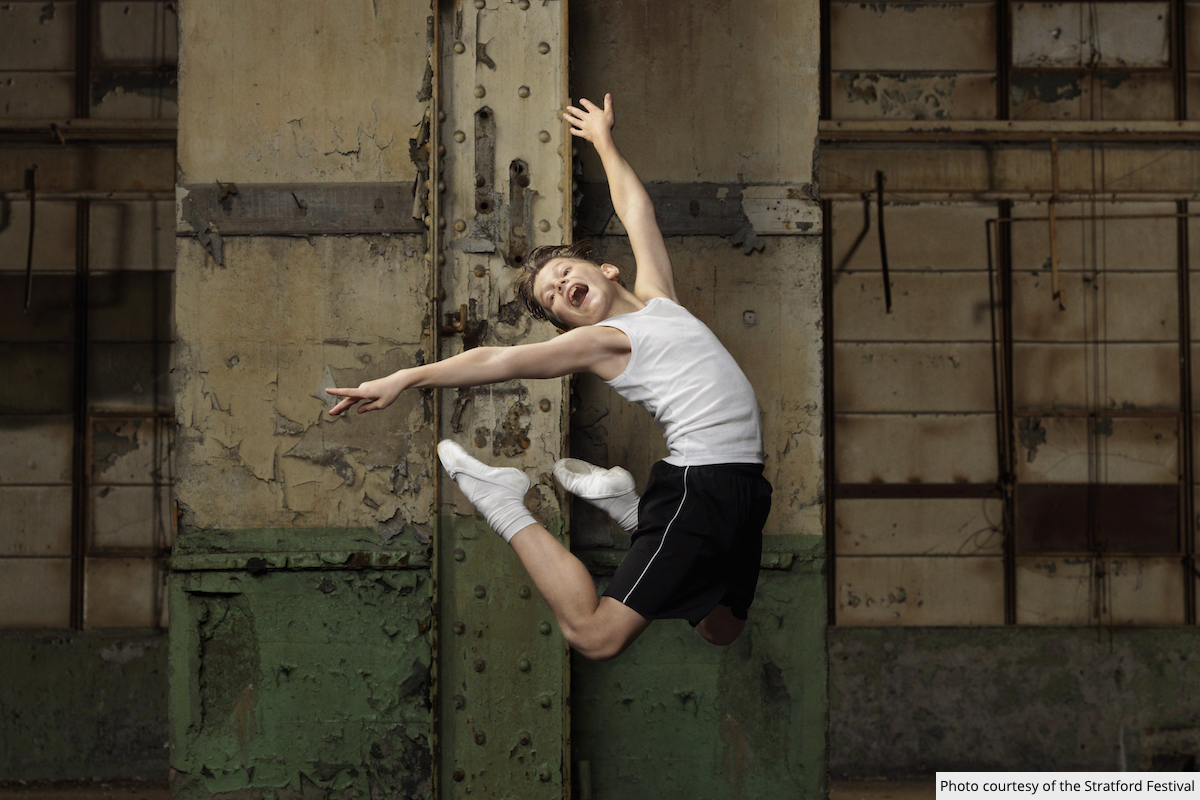 As Oscar Wilde once wrote: "It was only in the theatre that I lived."
For those of you who don't know this about me, from the time I was very young, the theatre was my whole world. I used to perform at The Montreal Children's Theatre, which was run and directed by two wonderful British actresses, Dorothy Davis and Violet Walters, and from the time I was 6 years old, I was hooked and went on to spend the better part of my childhood rehearsing every weekend for the fairytale productions we used to do twice a year. Bliss for me was the sight of the red velvet curtains and the smell of the greasepaint at Victoria Hall, culminating when I played Snow White in Snow White and the Seven Dwarves and we were all on the cover of the Montreal Scene Magazine, which was part of the daily newspaper. This was bliss. I performed as an actor for many years and then shifted gears to journalism, but always kept my foot in the door of the theatrical world, working for many years reviewing theatre. Then later, I went on to become the Managing Editor of a Performing Arts Magazine called Toronto Tonight and as a theatre critic, I covered hundreds of theatrical productions a year, writing theatre reviews, a regular Theatretalk column and even A Celebrity Dining Column. At the same time, I hosted and created a television show called In the Spotlight which was designed to showcase Canada's performing artists and I interviewed a veritable who's who of Canadian theatre and dance luminaries from R.H Thomson, Colm Feore, to the original cast of Les Miserables, produced by Mirvish Productions, to Gordon Pinsent, Jayne Eastwood, Karen Kain and Veronica Tenant just to name a few.
One of the highlights every year was going to the Stratford Festival where I would see about 10 shows and review them all for the magazine.
Fast forward to the present where I am Hosting a new radio show on Zoomer Radio, Finding Your Bliss, running this online magazine, creating daily videos for my Instagram and Facebook pages @theblissminute, along with the joy of raising a family, has made me so busy that I can't see as many shows as I used to, but I still love the theatre more than I can ever explain.
And every once in a while there is a jewel of a show that shines so brightly, it reminds me not only of my love affair with the theatre, but with how important theatre is as a living, breathing expression where the artist and the audience create something together and become one and I wanted to write about this production of Billy Elliot as it was one of sheer bliss.
First of all, let's start with the story of Billy Elliot, which takes place in a mining town where a violent and bitter national strike is happening and 11-year-old Billy Elliot lives with his bereaved family. His beloved mother has died and he lives with his widowed father and bullying brother and Billy discovers a talent for dance which awakens in him a passion that brings together the whole community and gives his family and everyone in the town hope that maybe dreams can come true. Add to this inspirational story, superb staging and choreography by director Donna Feore, moving dance numbers, brilliant book and lyrics by Lee Hall, superb music by pop legend Elton John and a stellar cast led by the brilliantly talented Nolen Dubuc, who plays Billy Elliot in this Stratford Festival production of Billy Elliot the Musical.
Dubuc is so magnificent in this role as the young boy from a mining town, who displays such an innocent sweetness intermingled with a quiet strength and dignity. He is also a beautiful dancer and there is a timbre and tone in his voice that just pulls at your heartstrings. Mine were ripped right open.
The show is filled with moments of bliss, like fireworks, each one more spectacular than the next. One of these "bliss" moments happens at Billy's audition for the Royal Ballet School in London.
Renowned Director and choreographer Donna Feore makes such exceptional choices all throughout this piece and really has the audience on the edge of their seats. One of them is when Billy Elliot first arrives at the audition, handing over his cassette tape to the "Clipboard Woman" played expertly by Starr Domingue, who explains that there will no dancing required, just the ballet positions and exercises. Billy, like the audience, (we are all part of this now), is so disappointed, because he has worked on his dance for months leading up to this audition, and then at the end of the "interview" portion, he finally gets his chance. There is such pathos in the scene where Billy and his father played brilliantly by Dan Chameroy sit together waiting on two wooden chairs in front of the panel of judges (who we never see, they are really us in the audience). Dan Chameroy plays Billy's father with such bravado, juxtaposed with such tenderness and the poignance of them sitting there, father and son, is so arresting, with so much at stake and all of their money gone just to pay for their train ticket to London. And then, as they are leaving the audition, with their hearts in their mouths, (as ours are), the "bliss" moment begins when just as Billy is leaving, he is asked how dancing makes him feel by one of the judges, and he answers by dancing and singing his heart out in a piece called "Electricity". It is so heartbreakingly beautiful and sums up what finding your bliss is all about. He is in his element, answering his calling and it's not just about the moves and the technique, it's about so much more. It involves his whole body, heart and soul, which is wrapped up in this dance which is his passion and his chance and the community's chance for a better life, doing what he was born to do. It is also his healing and the healing of the community he lives in. It represents hope and a better life for everyone and he doesn't really have a choice, when he dances, it's just something he has to do. He forgets who he is, and all the pain and sorrow he has suffered in his young life, which is now replaced by a feeling of joy and elation and he becomes elevated to another plane where he becomes alive and in his bliss, in an enlightened state of euphoria.
As director and choreographer Donna Feore writes in the program notes:
Billy has a gift, and it will shine like a diamond in the coal dust just as soon as he can figure out what it is. We talk of being moved, of moving others and expressing ourselves in movement, but what does it really mean "to dance"? It's said that "you don't choose dance, dance chooses you." It's so hard, so demanding, you would certainly never do it unless you absolutely couldn't not do it. It takes everything you've got and spits you out without remorse. But if you asked me, as our Billy is asked, how do I feel when I dance, I might just dance in answer. It's hard to explain the joyful pain, the euphoria, the exhilaration. I can say that every day I come to work as a director I'm grateful that I began my career in dance. The rigour and discipline that it demands inform everything I do. Every step tells a story, every gesture carries us forward. Add music, words and song, and there's no limit to the stories you can tell and no more powerful way to tell them.
What's so fascinating is that Donna Feore began her career as a dancer, so not only can she direct the choreography so exquisitely, but she understands the feeling that the character Billy Elliot experiences when he dances, because she has felt it so profoundly herself. This is the stuff that dreams and bliss are made of.
Rounding out this phenomenal production is the Dance instructor Mrs. Wilkinson who teaches Billy how to dance. Played perfectly by Blythe Wilson, the scene where she says goodbye to Billy is so moving and handled with such grace and integrity, holding back the sentimentality, in order to give Billy the confidence to fly without looking back. This might be a good place to mention that I wept for two and a half hours. Even the lovely lady to my right had to pat my arm a few times!
I would be remiss if I didn't mention Vanessa Sears and her moving portrayal of Billy's mother who appears as a mirage throughout the play. Sears combines just the right note again of the loving mother who has to strengthen Billy by holding back just a little, to allow him the wings to soar. Grandma Elliot, is played delightfully by Marion Adler. And finally, Billy's best friend, Michael is played by Emerson Gamble. Gamble is so loveable in the character and the scene in which he cross dresses was one of the highlights of the show, along with ensemble members Eric Abel, Michael Brown, Henry Firmston, Jordan Mah, and Jason Sermonia who were all incredible in the "Expressing Yourself" number as they played larger than life "Dancing Dresses," wearing colourful costumes and dancing on stilts! All of the chorus excelled from the very believable group of Ballet Girls, who used wooden chairs as a ballet barre, which created realistic backdrop for the small and very poor town in which they lived. Equally impressive were the miners, cops, riot police, miners' wives and the dancing suitors who dance with Grandma. There was nary a false note in this gem of a show.
The epiphany in this production happened for me in the dream ballet sequence danced stunningly by Dubuc and the Older Billy played by Colton Curtis. This dance was breathtaking and it lifted the audience to the same heights that Billy was lifted to, on the arms of the grown up Billy, the man and the artist he was to become.
Video courtesy of the Stratford Festival.
The German theatrical critic Johann Wolfgang von Goethe always used three criteria when he wrote his theatrical criticism. The first was, what is the artist attempting to do? Was it well done, and was it worth doing?
In this deeply moving and dazzling production of Billy Elliot, the director attempted to create a world where spirit and triumph overcome hardship and sorrow, driven by a bitter national strike where thousands of people are out of work, and are on the poverty line. And finally, there is light in the darkness that gives the miners and everyone in the community hope and courage, illuminating the way for all of them to create a better life for themselves.
Was it well done? It was masterfully done and so timely during these dark and troubled times the world is facing. And was it worth doing? Well, any production that reminds us all how important it is to find that spark within ourselves that lights up the world, to be in service to others and to make the world a better place in doing so, is definitely worth doing.
Billy Elliot is playing at the Stratford Festival until November 24th. For tickets, go to stratfordfestival.ca.