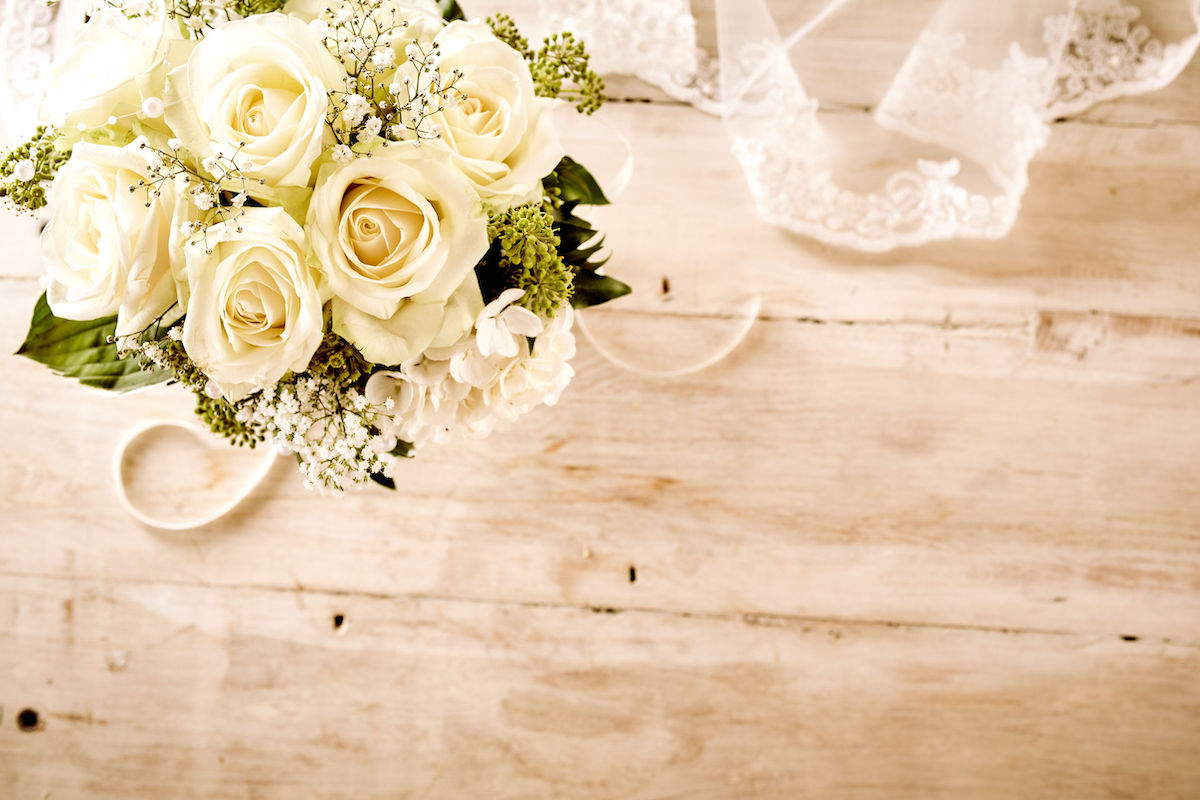 I love weddings! I used to be the author of The Toronto Wedding Handbook, a humourous and informative guide on how to survive weddings and it went into four editions and was a very popular guide and go-to for brides and grooms and their wedding parties!
And now it is 2019 and so much has changed, but since it's June, I just had to write a piece on the most Blissful Trends for Weddings this summer.
So where to begin? Well, the gown of course!!!! According to Harper's Bazaar, The Boho Bride is being replaced by Glam and as Heather Hall and Carrie Porter write:
Harper's Bazzar: "From royal weddings galore to It-girl nuptials, like Priyanka Chopra's many celebrations with Nick Jonas and Chiara Ferragni's Italian spectacular with Fedez, 2018 was a huge year for weddings."
What's huge is Glam, Couture, says Harpers Bazaar, "Louis XIV-inspired ruffles, '70s disco, and sleek silhouettes fit for metropolitan minimalists. Classic bridal archetypes are getting an overhaul as well; the beach bride is a little more gamine and sultry.
The global runways — from New York bridal week to Paris Haute Couture — are giving the 2019 bride lots of thematic and fashion remixes to work with."
But my favourite style of gown they write about is when they talk about the "rustic bride" and Hall and Porter write: "The rustic bride has taken on a new polish, via our favorite It-girl trend, the Fashion Fairy Nymph."
What an image! So evocative! Whimsical and fairylike but fashion forward at the same time! I miss writing about weddings!!!
I spoke to Bridal gown designer Lea-Ann Belter about the hottest bridal trends for summer 2019 and she said: "The last two years we've seen a return to the classical and elegant gown which was inspired by Megan Markle's wedding. We're seeing a lot of clean lines, almost architectural. We were seeing a lot of sexy wedding gowns and now we're back to brides looking beautiful and tasteful. Sleeves are back in, off-the-shoulder sleeves, even long sleeves are back in, exposed backs are in. It's also all about the veil now. Whether it's a long veil, or a blusher veil, we're moving back with a return to elegance. Crisp good fabrics and well made dresses are what it's all about."
When asked what's blissful about weddings and creating these one-of-a-kind stunning gowns, Belter says:
"It's the most important purchase a woman is going to make. We want her to make sure that the dress embodies who she is, what makes it beautiful is when they talk about how beautiful the bride looks and not just the dress, we want her to radiate who she is in that dress!"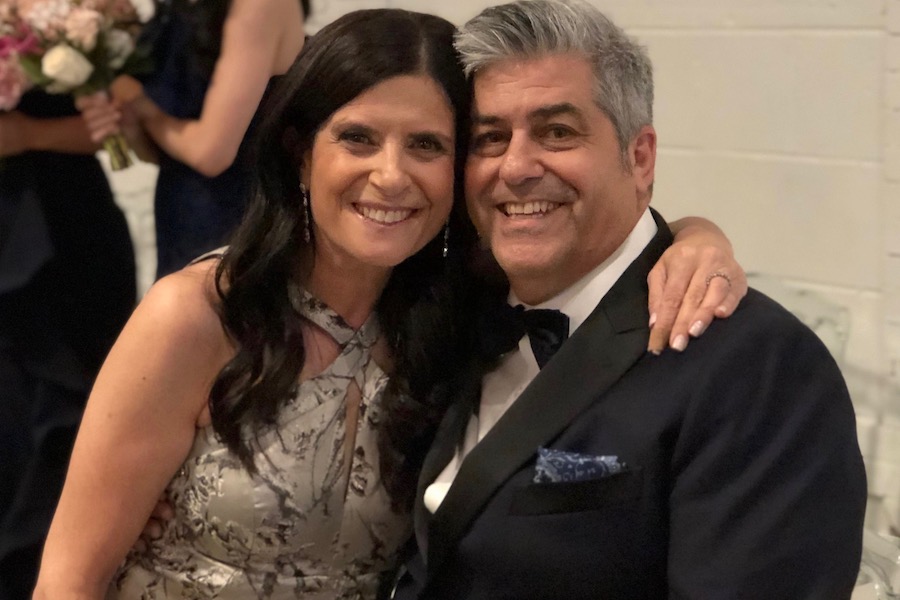 Event Planner Judy Steiner with her hubby Perry at their daughter's wedding!
Lea-Ann Belter also talked about what's blissful about weddings these days and as she puts it, "What's great about weddings right now is that there are no rules, it's very much about the couple who are having a party to celebrate their marriage, instead of having a long receiving line, they mingle throughout the crowd. They sit at a sweetheart table for two, instead of a long head table. It's very much about the couple, and they even give little favours that are reminiscent of who they are."
So once I got up to speed on the dress, I then wanted to get the latest and the greatest of the most popular wedding trends from top Event Planner Judy Steiner (Judy Steiner Consulting, judysteinerevents@gmail.com and on Instagram and on Facebook!). I asked her what some of the hottest trends were for summer 2019.
For flowers, she talked about this fabulous new trend called Floral Ceiling Treatments. She explained that they are being done "in an area of the event space to beautify the room. They suspend wisteria and all sorts of florals, greenery, roses, and orchids for example, which all hang suspended from the ceiling to create a stunning ceiling extravaganza".
Other huge trends are Drip Wedding Cakes, Drip cakes are a one-of-a-kind wedding cake where you drizzle frosting or melted chocolate down the sides of the cake. Often there is a pop of color or fresh flowers on the cake, and the design reflects a relaxed kind of carefree vibe. According to Steiner, "A drip cake is not as heavy as a traditional wedding cake, it has a more rustic feeling. The icing or chocolate is usually over a naked cake, and that cake has been thinly coated with icing. The icing is thinly applied, so you can see the cake underneath. then the drip could be in chocolate, or in a glaze that drips over the sides."
Other cool trends are brunch weddings, country weddings and anything that is a bit more relaxed. Even flowers and decor have a more rustic feel in this current trend. Often weddings have a rustic look using wood and lots of natural elements.
A huge trend is Brunch weddings, which are more intimate, says Steiner. "Sometimes if they want to have a celebration, but not the huge party that goes with it, brides and grooms are opting for an elegant brunch wedding which is more reasonably priced, more budget friendly, but you are still incorporating a celebration without the added expense of a full out party."
Food has also changed at weddings and top trends are for "the food to not be as traditonal," explains Steiner. "Couples are having their favourite fast foods. People getting married are having food servings like hamburgers, Burritos, Taco bars, McDonalds, chicken and waffles, that's what they're doing for the meal, instead of a big sit down dinner."
So the overall trend is?
"Weddings are more relaxed," says Steiner. "People want fun, beautiful, more relaxed and memorable weddings with a meaningful ceremony, a fun party and a more relaxed vibe."
When asked why planning weddings is a blissful thing to do, Judy smiles and says,
"You're dealing with people who are planning a happy occasion and have a positive vibe about the event that's about to take place, so it makes me happy to be around all of this love and happiness."