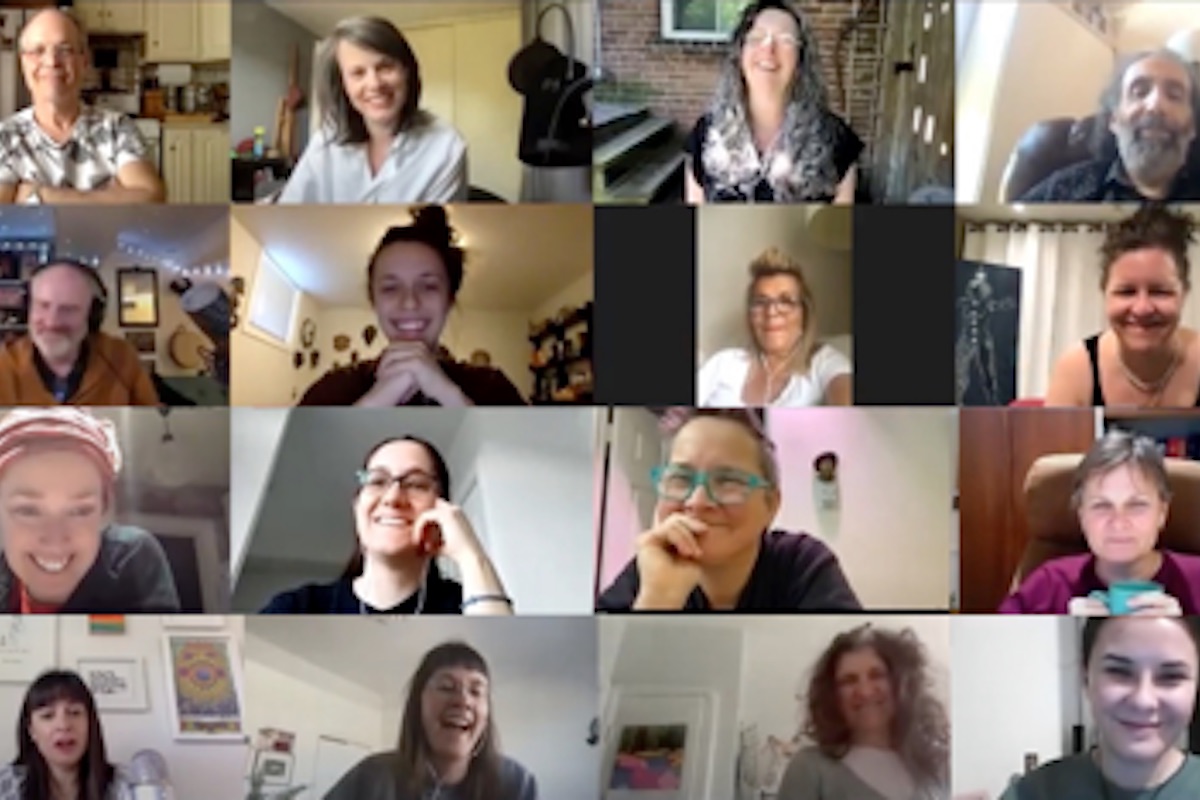 How often do you hear someone say, "I absolutely love my job", or "This is the best job I've ever had"?
Likely not very often, if ever.
But those sentiments were regularly expressed before the pandemic when we, a group of artists, support workers, and admin staff collaborated at The Dotsa Bitove Wellness Academy. It was an incredibly warm family-like atmosphere that was supportive of everybody — staff and members alike. We worked alongside one another to share artistic programs for our members living with dementia.
The reason we fell so heart-deep in love with our jobs? There was a culture of genuine respect and liveliness centred around the people we were creating community with. We saw potential and purpose in our members living with dementia and in turn we focused on their abilities, not their disabilities.
We accepted and embraced what was happening in every moment without the need to control outcomes. Lesley, one of our program assistants, says that it was so special because, "I was free to just be with people in a genuine and loving manner."
This was a very liberating setting to call a workplace
One of our artists, Simon, says that the joy, connection, and laughter made it a unique job. "It gave me the opportunity to share my love of creativity and music with people living with dementia. I saw how profound music is, and how it can connect us when words and conventional communication no longer work."
For our team, finding this community of like-minded professionals was a blessing and felt like bliss! One of our artists, Robin says, "Connecting through shared stories and music made me feel happy and connected and more like myself. This job was a turning point and a gift in my life."
Where did this high level of workplace happiness come from? Our workspace had a meaningful purpose that served mutually beneficial outcomes. Kristin, one of our Program Assistants, defines our workplace atmosphere as, "creative and thoughtful people whose well-being is tied to being in a judgement-free environment, which offers infinite possibilities to tap into who we are and how we can connect".
When the pandemic hit in 2020, our precious brick -and- mortar space vanished along with our jobs.
The safe, playful, and non-judgemental environment we had thrived in was suddenly gone. Like one of our artists, Robin, says, "This space brought out the best in me, and that spilled over into every other area of my life."
We simply couldn't let that go
The artists and staff came together, searching for a way to carry on and to find a way to maintain our bliss, both for us and our members living with dementia.
After a lot of adjusting, we have now brought ourselves and our members together online to recreate what one of our artists, Kathleen, describes as "a uniquely positive atmosphere".
And now, under the name The Bitove Method, we continue re-building online that blissful combination of trust, humour, and creativity.
It is an amazing community filled with special people and I feel fortunate to be part of this community.

Steve, artist at _The Bitove Method_
Please visit our website at www.thebitovemethod.com to learn more about our special community, classes, and programs.