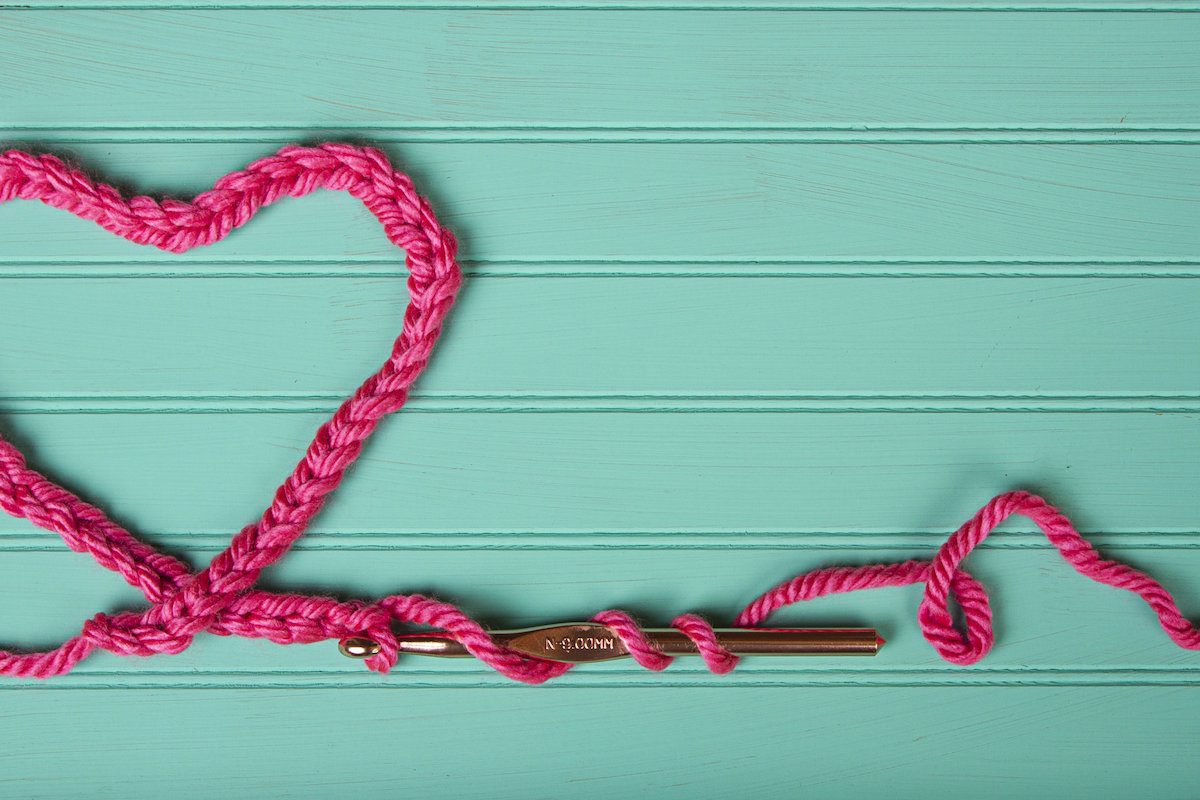 Growing up, my home was like a museum displaying my grandmother Audrey's finest crochet works. Sprawling on every bed and couch was a granny square afghan, while nearly every dresser featured a delicate lace dolly. I never asked questions about the pieces, and let them fall into my young, subconscious mind as irrelevant furnishings in my home. I suppose I was more intrigued by our new trampoline and being outside than retro crochet decor.
The morning after her 65th birthday in 2002, Audrey shockingly passed away in her sleep. I was only two-and-a-half years old at the time and in spite of how hard I try to find a memory involving her, I fall short. I've always felt this deep and soulful connection to Audrey, despite only seeing her in photographs and hearing stories about her life. I felt stripped of a chance to know her, and my mother says that Audrey was stripped of her one dream to be a grandmother.
What I couldn't see then was that the key connecting me to my funny, beautiful grandmother was already right in front of me.
When the COVID-19 pandemic hit in March 2020, I needed an outlet to feel productive - like so many others. On the recommendation of my mother, I studied the first "crochet for beginners" Youtube video that I came across and quickly picked up the stitches. It wasn't just the satisfaction of creating physical objects from a single strand of yarn; the process of crocheting placed me in a certain mindset. It felt like my hands were moving by themselves as I continuously wrapped the yarn around the cold metal hook.
I was actually good at it, and above that, it was as if I was meditating. Time would slow down, yet every time I looked at the clock, hours had gone by and the touchable wool that rested on my lap just grew longer and longer. The early spring winds roared through my window as I hunched over my bench seat, feeling submerged in this new world. The switch between yellow to orange to brown moved like clockwork while I fastened together hundreds of new sunflower granny squares for an afghan.
I remember facing the issue of not knowing how to sew granny squares together, and before I opened Youtube in search of a tutorial, I went straight to a trunk of my grandmother's old blankets. I studied the fastenings of a crocheted blanket that was once on our living room couch, admiring the craftsmanship and hoping mine would look that great.
I took a second and realized that, unknowingly, my grandmother had just taught me something as an adult. Studying her crochet stitches felt like the first interaction we ever had.
I've struggled with anxiety for most of my life, and crochet provides me with a calming, yet exciting feeling all at once. The repetitive nature of crochet's movement does feel incredibly meditative, allowing time to let my mind wander. With my hands already busy and not reaching for a cellphone, I become contemplative while crocheting and I'm almost forced to reflect. It's one of the very few portable, physical tools for anxiety that actually work for me. There's also huge accomplishment associated with yarnwork crafts. When someone compliments my crocheted clothing and asks me where I bought it, nothing makes me more proud to say it came from my own hands. It's so much more than a hobby. It's truly good for your brain.
More than the emotional rewards that crochet brings, having a deep connection to the craft is what really brings me bliss. Knowing that I share the same hobby as my grandmother has brought me the connection I've longed for my whole life. I no longer wish that she was the one who has taught me my first single-crochet stitch, but rather I wish she were here to see all I've made with her in mind.
I keep my grandmother's memory alive by performing her favourite hobby, further connecting me to my family's past and feeling true identity there. Since becoming a crocheter, I feel bliss by being a part of something bigger with every stitch — a community my grandmother was a part of and a community I can be the first to pass down to my children. Crochet begins with a hook and ends with a finished piece, but in between those two points is so much more, and that's where my bliss is.