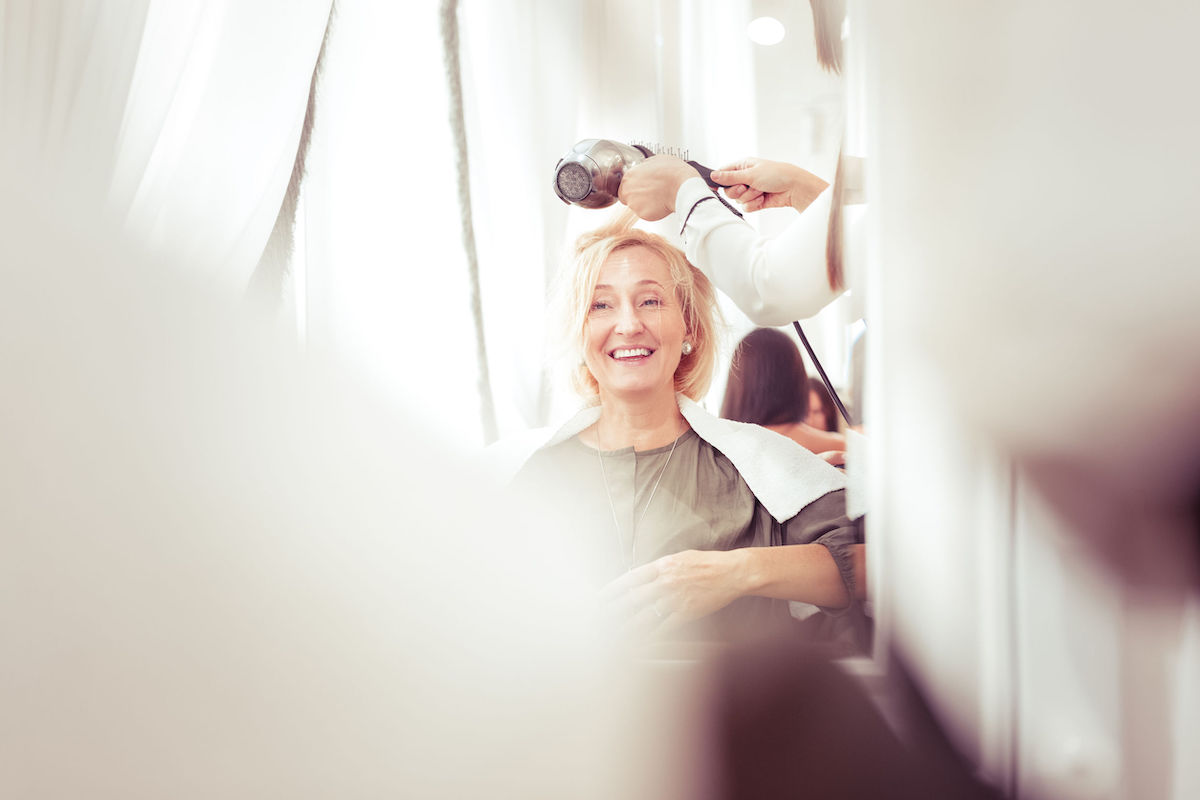 My mother is fantastic. She is 87 plus years old. My mother has been a widow since my father died 18 years ago. She thought he was the funniest guy in the world. She thought his voice was as good as anyone's on the radio. My mother believed my father's dance moves matched Fred Astair's. They loved each other. But he died too soon from cancer and my mother had to learn to live her life without him. She said she shared a bed with her sister until she married and then shared a bed with my father until he died. It was her first time to sleep alone, and her first time to live alone.
This is not about my mother being sad and lonely. This is about my mother dealing with a devastating blow to her life and moving forward. The world gave my mother a terrible challenge and she decided she was going to use this challenge and push through the remaining years of her life with a smile and grace.
My mother has rocked the same blond hairdo since the day I was born. Flips on the side, flips at the back. Yes, you could say she was the first to have the Farrah Fawcett hairstyle before Farrah Fawcett knew what it was. She goes to the hairdresser every Friday, once a month for a touch-up and insists she has no grey hair. I believe her. She plays maj twice a week and relishes in her wins. Monday and Thursday nights I listen to her speak of her maj game, of the amazing hands she won, and the ones that got away. On Tuesdays I take her grocery shopping. She can walk through Loblaws Superstore for an entire afternoon. First the pharmacy, next Joe Fresh, lastly the food aisles. Yes, I am a saint. She likes Loblaws Superstore because they price-match flyers from different stores. It's all a game to her. And she likes to play it. Then we move on to buy cigarettes and her lottery tickets. I hate that my mother smokes, but my husband says, "She's 87, it's an addiction, leave her alone". My mother likes to point out that her father smoked from the age of 14 until 92. I like to point out that she smoked while I sat in the car while she drove with her children and the windows rolled up. She likes to point out that we seemed to have turned out OK. Then we go off to the bank, where she insists on going in and paying her Rogers bill. I have explained to her that bills can be paid online. And she insists, it's an outing. I help her upstairs with her groceries and I help her put her things away. And then again, she is alone, making her dinner and reading the newspaper. She does not complain. Wednesdays are spent with her sister. Shhh, they go to bingo. No one is supposed to know. Friday, as mentioned, hairdresser, and then my home for a family dinner. Saturday, she has a date with her friend Carol, where they go out to a movie and dinner. On Sunday, my brother steps in and takes her for brunch and, yes, another round at Superstore. They really should have my mother do a commercial, she really loves it there. My mother would be a fabulous ambassador for the store.
But it isn't all easy. She needs a walker now. She hated it at first. But now calls it her Bentley. She had to give up driving because her hands are not working so well and her eyes are not behaving. But, man, does she know how to Uber. She Ubers here, she Ubers there. And she says she has met the most wonderful drivers and has had the most wonderful conversations. One day, she phoned to tell me that the strangest thing happened: Her Uber driver went the wrong way and went into a condominium complex and a young girl got in the car. I explained to her that she must have pressed Uber carpool. Now, my mother presses Uber carpool on purpose. She is enjoying the social interactions with strangers. I think she does it when she is bored just to get out and talk with people.
We all say, if life gives you lemons, learn to make lemonade. My beautiful mother never believed that my father's death at early age was a lemon. Her marriage of 49 years was a gift that most people don't get. And she honours my father by living her life well and waking up each day with aches and pains and thanking God for another morning. And as for me being a saint, it is an honour and a privilege to help and watch my mother spend her remaining years happy and content.