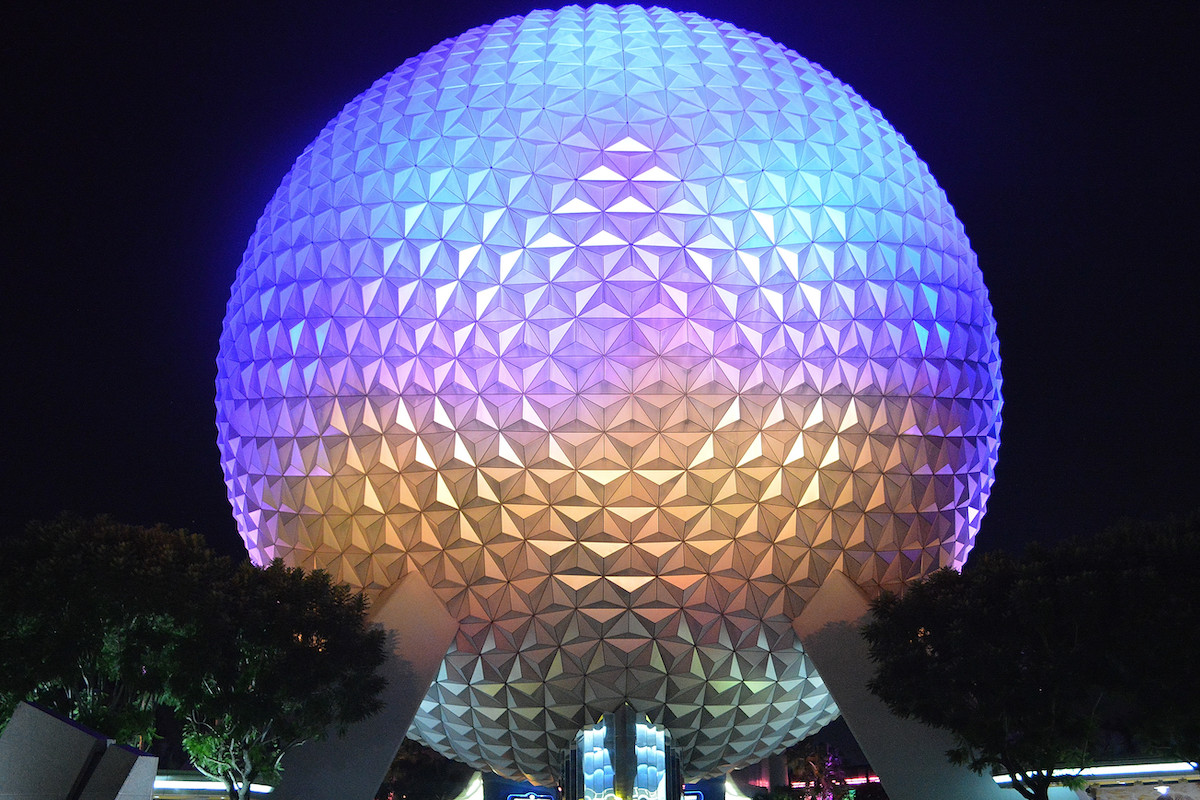 I have just picked up a key-lime mimosa from a food stand somewhere along the pathway of a large man-made lagoon. The slightly pink and bubbling drink is passed to me in a dainty flute glass by a Disney Cast Member with a kindhearted smile. I smile back at them and thank them as I carry on my way. My way, for the time being, is no direction in particular. I meander easily through the crowd — a crowd consisting mostly of adult groups enjoying the Food and Wine Festival, large and small family units rushing to make their next "FastPass" ticket, and happy couples taking in the last hours of another warm Florida day here at Walt Disney World's Epcot. I am on my own and while some might find this a lonely state to be in, I don't feel that way at all. In this moment, there is only one thought on my mind: right here, right now, I am the luckiest person alive.
I became familiar with the Walt Disney World Resort the way many do — as a young child. I may not remember the details of my first trip to Disney, but I remember the visits that would follow. Every few years, my family would take a road trip from our small Ontario town to the Happiest Place on Earth. While we grew up on Disney stories as children, it wasn't just my sister and I who loved Disney and insisted on returning year after year, it was other family members as well. As a young teen, I started to notice that my Dad, in particular, was and is a great admirer of all the entertainment, atmosphere, and escape from reality that a Disney trip provides. It was my Dad who first pointed out to me that storytelling is an ever-present force at Walt Disney World and that the magic is truly in the details that busy vacationers usually overlook. Taking a closer look around Walt Disney World reveals clever details, nods to the resort's history, and a whole new level of immersive storytelling. It was this epiphany that triggered my fascination with all things Disney Parks.
Disney World is widely regarded as a destination for families, and I often hear variations of the "Disney is just for kids" sentiment when I talk about my recent visits as an adult. While it is true that kids have quite a lot to love about Disney World, the truth of the matter is, there's plenty for adults to enjoy as well. Take for instance the annual Food and Wine Festival at Epcot. The overtly adult appeal of the event is in the name, but beyond being able to freely walk from pavilion to pavilion with an adult beverage in hand, there is so much fun to be had at any age when you're at Disney World. There are rides ranging from the thrilling and exhilarating to the quaint and cute. There are pavilions modeled after the art and architecture of countries from around the world. There are fireworks set to stunning musical medleys. Who doesn't love fireworks? It is a place of childish delight and imagination — the kind of wonderment we often lose as we live our daily lives of work, errands, and never-ending to-do lists. I happen to believe that adults need Disney magic more than they realize.
If I could live at Disney, I would… and I have. For three summers in a row, I was lucky enough to work at Walt Disney World and finally be part of making the magic I so adored as a guest. For three months at a time, I got to be as close to the magic as I could possibly be. If Disney didn't feel like home before, it certainly did after those summers. Most importantly, my time spent at Disney helped me become the person I am today in one key way that I never expected.
As I have noted, Disney is generally a place for families, and in my young adult years it became a place for friends. If memories are made to be shared and there is no one there to make memories with, then what is the point of going out alone? In my first summer working at Disney World, I decided to find out what it was like to experience Disney on my own — no one to share ride cars with, no one to eat dinner with, just a party of one. I was wary, but I knew the place like the back of my hand and I knew that the whole Disney World was waiting for me to enjoy, with or without company. As it turns out, walking down Main Street alone is not so lonely after all. As a single rider, you sometimes get to jump way ahead of the line to fill in remaining seats, and Cast Members and guests alike recognize that even though you're alone, you are enjoying a park that was built for anyone and everyone to enjoy. It is simply very difficult to feel anything but happy when you're walking around the world, one country to the next, with a cold mimosa in hand.
The magic of Disney is all about sparking joy. It doesn't matter if you're a parent, a toddler, or an individual exploring Disney World alone. At Disney, magic finds a way of finding you. It may be in meeting a beloved character or visiting an iconic ride. It may also be realizing that being alone does not mean being lonely and that there is freedom in having nowhere to be and no worries to contend with.
It is in these moments I spend alone that I feel the most free — free to sing, and skip, and let my mind wander as I stroll, content and carefree, through my most favourite place in the world. And despite being alone physically, I am surrounded by memories made with family and friends, warm greetings from the kind of Cast Members I used to be, and the overwhelming sense of being at home, at peace, and at ease in a place where dreams really do come true.