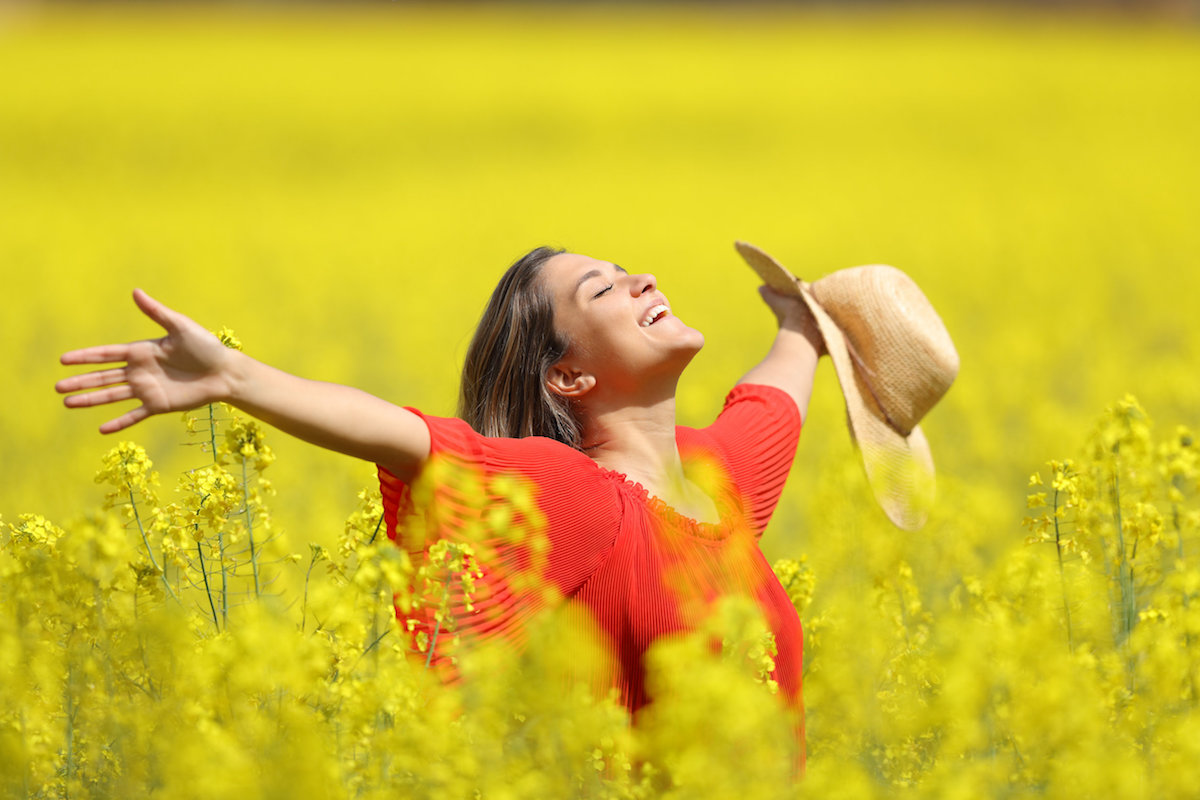 Our glands and brains produce endorphins that reduce our pain and increase our feelings of well-being. Our bodies release these powerful chemicals when we exercise (a "runner's high"), and also when we connect with joyful memories and activities that make us happy.
Through spiritual fitness, we can create the equivalent of a runner's high. Reflecting on what brings us joy, and actively choosing to spend more time immersed in these activities, enables us to experience a more blissful state of mind as our default setting.
In one of my recent studies, I asked research participants the following two questions:
Who or what brings you joy?
When you think of a moment where you felt 'in the flow' and at peace, what were you doing?
I then urged my study participants to reflect a bit deeper, on the particular activity, person, or place that made them feel joyful and at peace.
Several themes emerged as ways to experience a state of bliss. Feel free to reflect on any that resonate for you.
Being present to our immediate surroundings, while slowing down to notice and appreciate the beauty around us.
Connection to oneself, others, something beyond ourselves, and to what matters.
Ordinary moments with a loved one. (For example, one participant said having coffee every morning with her husband and dog brings her joy.)
Scheduling distraction-free quiet time.
Nurturing or taking care of something and watching it grow. (Gardening came up quite a few times, as did the theme of working with nature versus pushing, forcing, or placing our agenda on nature. Another participant spoke about the power of working with the roots, rocks, and sun, while letting go of her plan for how things should go, and instead being open to new possibilities.)
Building something from nothing.
Seeing the world through the eyes of a child. (One woman talked about the simple act of watching bees doing their jobs, something her two-year-old son was fascinated by and made her stop and notice as well).
Working as a coach, mentor, or teacher to help others develop their skills and increase their knowledge.
Moments that keep us off our phones.
Anytime we aren't being self-conscious.
New experiences (Sharing these experiences amplifies the joy.)
Creating environments for ourselves that help us tap into the joy that is already within us.
Clearing out the junk in our homes and minds.
Being with others who have passionate, dedicated minds and embody a high degree of presence, as described by Mari Evans: "I will bring you a whole person and you will bring me a whole person, and we will have us twice as much of love and everything."
Keeping a deceased loved one's memory alive.
Undertaking challenging but doable artistic creations.
Curiosity and playfulness.
Doing something from a place of pure love and trust, not having to "think" about it. (I experience joy when I trade my inner critic for empathy, and just let myself be.)
My definition of joy? Complete surrender to, awareness of, and appreciation for the present moment.
Joy occurs naturally when we open up to the goodness that is already inside ourselves.
Some people in the study said that joy is engaging in deep, meaningful conversations, "preferably with people who "get" me and lovingly challenge and encourage me to be the best me, the true me".
As you can see, simple "ordinary" moments came up time and time again when people talked about what brought them joy and peace.
Not one participant mentioned money, material possessions, appearance, or any of the other societal trappings we assume will make us happier.
Service: The endorphin-maker
I've discovered that one of the best ways to experience heaven on earth is through service — putting our gifts to good use. When we're able to make a difference in the lives of others, even if it's in a small way, we feel that our existence has purpose. We have a reason to get up in the morning and keep going, even during those times when life isn't heaven on earth.
Grand gestures aren't required. Think of a seemingly small extension of kindness that someone showed you and how much it touched your heart. For example, someone taking the time to write me a nice card expressing what my love and friendship means to them feels like a million bucks, but costs just a few dollars.
Every year, my Aunt Judy sends out nearly two hundred (!) birthday and anniversary cards to every single one of her friends and relatives. Every single one. Every single year. Each card contains within it a crisp five-dollar bill. She has been doing this for nearly sixty years, and at 81 years young, she still finds a way to bless each of us with this act of generosity.
Aunt Judy's cards are special to each of us because it's such a genuine display of kindness and thoughtfulness. In many ways, the cards mean much more than an expensive gift bought without much thought or intention. Her consistency with this expression of love is unmatched, and she will always be remembered for this. What a legacy to leave!
I might add that my Aunt Judy is probably the most joyful person I know. She says that she was inspired to send out birthday and anniversary cards because when she was a child, her Aunt Gladys would send her greeting cards with a dollar bill inside, even though she didn't have much money.
Aunt Judy wanted to honor her Aunt Gladys by continuing the gesture — a reminder that kindness and generosity always spread, and one simple act of love can create a huge ripple effect for generations.
My Aunt Judy embodies one of my favorite quotes by author Bob Goff, "When joy is a habit, love is a reflex".
The reward of complimenting others
I see the act of freely giving compliments as a lost art form in our society. I remember telling a friend of mine, who is a basketball coach, that one of his players had done a great job in the game. I enthusiastically complimented the player's competitiveness, fight, and toughness.
A friend of mine who was standing next to me seemed a bit taken aback, like "Gosh, don't give him a big head", or "You sound obsessed with him". I told her afterward that I choose to compliment people and show appreciation by reminding them of their gifts. The world will beat us down enough. I choose to lift up others any chance I get.
In fact, one of my favorite ways to experience heaven on earth is to give compliments. I think we live in a world where comparison, competition, fear, lack, and jealousy are the norm. But, I see the difference it makes in others when I take a moment to notice their pretty nails, stylish outfit, beautiful smile, radiant complexion, or inspiring speech, blog post, and so forth.
The best part? It feels incredible to give! I get just as much as the recipient.
Excerpted from the book from The Full Spirit Workout. Copyright © 2021 by Kate Eckman. Printed with permission from New World Library.